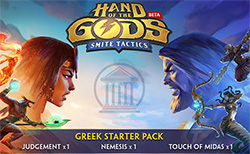 Hand of the Gods: SMITE Tactics Greek Starter Pack Giveaway
FREE
MMOBomb.com and Hi-Rez Studios are teaming up once again to get our readers a free Greek Starter Pack for the free-to-play game Hand of the Gods: SMITE Tactics.
This starter pack includes 3 cards that will grant you a head start on building a strong Greek deck.
Don't lose more time, get your key now while supplies last!
How to get and use your Key:
1. Log in to your MMOBomb forum account. If you don't have one, register for free HERE.
2. Log into Hand of the Gods or create an account if you haven't already.
3. Once in-game click STORE then REDEEM CODE.
4. Correctly enter in your code to activate the unlock.
Featured Video
This code contains the following items:
⦁ 3 Greek cards that will help you start a strong Greek deck.
Note:
1. Each code can be redeem just once and each person cannot redeem more than one of these codes.
About:
Hand of the Gods: SMITE Tactics is a game of strategy where players will carefully choose which minions to deploy across the battlefield and which gods will lead them.
More Giveaways:
Games You May Like