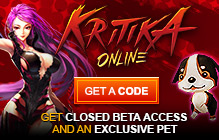 Kritika Online Closed Beta Key Giveaway Plus More! (Restocked)
FREE
MMOBomb.com and En Masse Entertainment have teamed up to score YOU Closed Beta access to Kritika Online! These keys give you access to the beta test and an exclusive pet.
To unlock your code key you just need to complete all the steps on the top.
Get your key now while supplies last!
How to use your Key:
1. Follow all the steps and unlock the key.
2. If you don't already have one, create an En Masse account at
https://account.enmasse.com/kritika/sign-up
3. Download and install the game launcher at https://kritika.enmasse.com/download
4. Open the launcher and log in using your En Masse account.
5. Click the "Redeem a Code" button on the Kritika Online tab of the launcher and enter your code to gain entry to the beta.
6. Your items will be delivered directly to your in-game Delivery Box.
Featured Video
Note:
1. Each code can be redeem just once and each person cannot redeem more than one of these codes.
2. Keys will remain active and valid for redemption until the end of the closed beta on Tuesday, June 13, 2017.
3. For details regarding any regional restrictions, please visit - http://support.enmasse.com/tera/playing-kritika-outside-of-north-america
About:
Kritika Online is a free-to-play hyper-stylized action MMO 3D brawler for PC that features a best-in-class combat system, over-the-top anime characters and art, and deep RPG progression systems, all delivered in a streamlined package designed to get players in and out of the action as quickly as possible.
More Giveaways:
Games You May Like