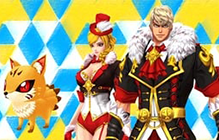 Kritika Online Gift Key Giveaway
FREE
MMOBomb and En Masse Entertainment are teaming to get our readers a free gift key for Kritika Online. This gift key includes: A permanent costume currently only available in this pack, a 10-Day fox pet and 3 Experience Boost Potions. Please note these are not Steam keys so follow the instructions below.
To unlock your key you just need to complete all the steps on the top. Get your key now while supplies last!
How to use your Key:
1. Download the En Masse launcher HERE (direct download) or through Steam.
2. Launch the game and click "Redeem Code" from the upper left corner in the Launcher
3. Enter your code and click the "Submit" button.
4. Items will be delivered in-game via the "Delivery" Inventory tab.
This code contains the following items:
⦁ 1 Permanent Operetta Costume Bundle
⦁ 1 Mini Nine-Tails Fox (Lasts 10 Days)
⦁ 3 DZ90-30m EXP Boost (Each experience boost potion lasts 30 minutes)
Note:
1. Each code can be redeem just once and each person cannot redeem more than one of these codes.
Gameplay Video
About:
Kritika Online is a hyper-stylized, fast-paced, action brawler. You work together as a team to aggressively clear compact instanced dungeons—known as danger zones—quickly and efficiently.
More Giveaways:
Games You May Like