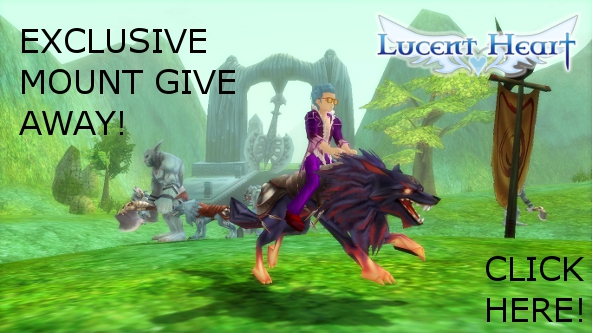 Lucent Heart (Europe): Exclusive Mount Giveaway
FREE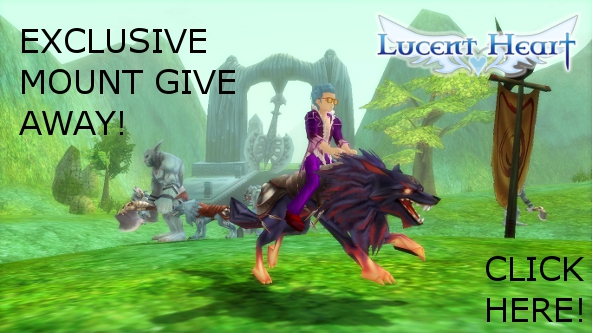 The European Closed Beta of Lucent Heart starts at the 9th of June til the 20th of June so MMOBomb.com and Gamania have teamed up to give our users a key which will grant you a free in-game item for Lucent Heart. Don't miss out on this exclusive and limited offer!
Lucent Heart is a MMO (Massively Multiplayer Online) adventure game from leading publisher Gamania, where the forces of good battle evil for control over the world of Acadia. The game is inspired by the zodiac and Greek mythology which sees the player's action's influenced by their daily horoscopes, and features Cupid match-making for players to join and fight together as they venture forth into the land of Acadia. To get up-to-date information on Lucent Heart check out the following link: http://www.lucentheart.co.uk
The key contains the following item:
- "Dark Shadow Warg" Exclusive Mount
How to get and use your Key:
1. Log in to your MMOBomb account to get your key. If you don't have one, register for free HERE.
2. Copy and paste your key to a safe place as you may not be able to retrieve it once closing your browser.
3. Go to http://en.beanfun.com/
4. Open your beanfun! client and launch into Lucent Heart. Select the character you would like to receive your promo goodies and enter into Acadia
5. When in game click on the Shopping Mall icon or press the B key to open the Mall.
6. Click the Exchange button near the bottom right of the Mall window.
7. Enter your promo code in the popup that appears and click send, then click ok.
7.1. The items to be granted by your promo code will appear in your Item Mall Inventory on the bottom left side of the Mall panel - In the Item Mall Inventory select the item to be transferred.
7.2 Press the Transfer button, and your item will be moved.
7.3 If you have multiple items to transfer, repeat steps 7.1 and 7.2
7.4 Leave the Mall and open your Backpack (press I or click the backpack icon) to find your items.
8. Make sure you never miss a giveaway, sign up for our daily newsletter, it´s free!
More Giveaways:
Games You May Like