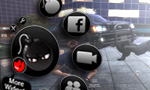 MMOBomb Client: Stay in the Game
FREE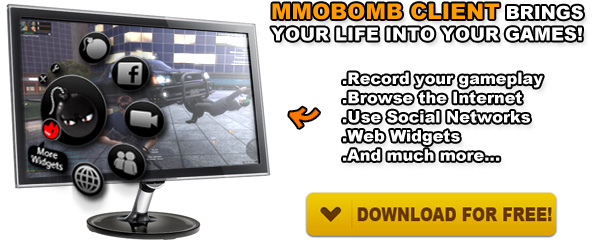 MMOBomb Client is a free software powered by Overwolf that lets you do tons of stuff while playing your game. Record your gameplay, browse the internet, capture screenshots, share game experiences, use Facebook, Skype, Messenger and much more!
Web Browser
Not sure how to kill the last boss? Besides checking your emails, MMOBomb's chrome-based in-game browser ensures you'll actually find whatever it is that you are looking for, without leaving your game.
Video Recorder
The MMOBomb Client Video Capture widget allows you to record gameplay videos, save them on your hard drive or upload them directly to your Facebook or YouTube accounts and post them on Twitter. Using the in-game widget media player, you can watch videos you recorded without ever leaving your game.
Shoot To Record
100% pure action. No more boring 10 minutes round recordings or long editing work – get what matters, instantly.
Screen Capture
Capture a high resolution screenshot with a single click while you continue to play. See the result immediately, and share it on Twitter or Facebook with just one click without leaving your game.
Social Networks
Use YouTube, Facebook and Twitter to share your triumphs. Update your own status and upload screenshots and videos from the game while you play. Also, you can use MMOBomb Client to do the non-gaming related social activities: view and comment friends statuses, check out hot chicks profiles... wait, what?!
Messenger
Use the MSN widget to chat with your friends while you play. Oh, and get this: Whenever an MMOBomb-Messenger friend of yours starts to play a game, you'll be notified. This way you can join him so you can kick some asses together.
Video Player
Okay, you've just had an amazing knife kill. If it was recorded, you can now check it out without leaving your game, and upload it to YouTube, Facebook or Twitter.
Web widgets
Experience the web through MMOBomb...

More Coming Soon
Music player, TeamSpeak, Ventrilo and much more!

System Requirements:
Operating System: Windows 7, Vista or XP. (Mac users, we are working on it).
50MB on your hard drive
In-game support: DirectX9, DirectX11.
CPU / RAM: If your computer runs your game, it will run MMOBomb Client with it.
Note: MMOBomb Client is in beta stage, we are improving it all the time and supporting more games.
Support: Need Help? Go here
More Giveaways:
Games You May Like