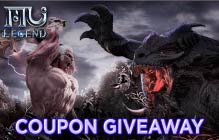 MU Legend Gift Key Giveaway
FREE
To celebrate the MU Legend release on Steam, MMOBomb and Webzen have partnered up to get our users a free gift Key full of in-game items for MU Legend.
Each key contains a 3-Day Platinum Service Ticket, Stones and much more. To unlock your gift key instantly you just need to complete all the steps on the top.
Grab your key now and get into the action!
How to use your Key:
1. Download MU Legend via Steam or client.
2. Create your Webzen account.​
3. Choose a server and create a new character.
4. Go to webzen.com/Coupon
5. Log in, select your character and enter the Code.
Once you finish the game tutorial, follow these steps please:
Step 1: Click on this button
Step 2: Now you are on the Legend Shop. Please click on the "Storage" button
Step 3: If you redeem the coupon correctly, the item will be listed. Please select it and click on "Move Selected".
This key contains the following:
⦁ 3-Day Platinum Service Ticket
⦁ Wings Growth Stone
⦁ Resurrection Stone of Life
⦁ Invisibility Cloak
⦁ Infinite Key
⦁ Rift Key
⦁ Dragon Knight's Invitation
⦁ Targash's Invitation
⦁ Luery's Key
⦁ Magic Gem Mine Map
⦁ Fabrice's Compass
⦁ Pit of the Dead Key
⦁ Fire Demon Cave Key
⦁ Ice Demon Cave Key
Note:
1. Each code can be redeem just once and each person cannot redeem more than one of these codes.
2. Please note these are not Steam keys so follow the key instructions.
About:
MU Legend is the highly anticipated action MMO and follow-up to MU Online. It features fluid and stunning hack 'n' slash combat, content that caters to both solo and party play, and a deep and intriguing world that will satisfy new players and fans alike...
More Giveaways:
Games You May Like