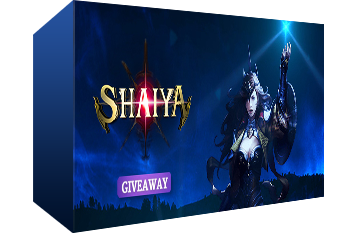 Shaiya Gift Pack Key Giveaway
FREE
MMOBomb and Gamigo have partnered up to get our users a free Gift pack Key with in-game items for Shaiya. Each key unlocks many in-game items including Stones, Runes, Potions and more!
To unlock your key instantly you just need to complete all the steps on the top. Get your key now while supplies last!
How to use your Key:
1. Complete all steps to unlock your key.
2. If you don't have a Shaiya account register using the following page.
3. Login with your game account and redeem your key here.
This key contains the following:
⦁ x15 Teleportation Stone
⦁ x15 Movement Rune
⦁ x15 Party Member Summon Rune
⦁ x1 Small Prevent Item Drop
⦁ x1 7D Res Rune (NT)
⦁ x1 30d Double Warehouse (NT)
⦁ x20 [SP] Etain Potion
⦁ x5 Dungeon Scroll (One Use)
⦁ x1 (SP) Golden Blade (7d)
⦁ x1 Lucky Pig (7d)
⦁ x1 Flaming Star (7d)
⦁ x20 Regnum Potion (NT)
Note:
1. Each code can be redeemed just once and each person cannot redeem more than one of these codes.
2. This giveaway ends on April 30.
About:
Shaiya is a stunning, free-to-play, fantasy MMORPG that immerses players in a massive war between the forces of Light and Darkness…
More Giveaways:
Games You May Like