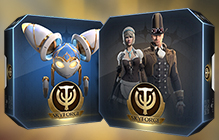 Skyforge Spring Cleaning Bundle Key Giveaway
FREE
NORTH AMERICA
Enter Here
EUROPE
Enter Here
MMOBomb and My.com are teaming to get our readers a special free bundle key for Skyforge. Each bundle key contains the small and big pack of the Spring Cleaning packs. Each pack includes free Credits, Outfits and much more.
To unlock your bundle key instantly you just need to complete all the steps on the top. Get your key now while supplies last!
How to use your Key:
1. Visit sf.my.com and create or login to your account
2. Click on Profile (though not the one on the top right of the page, but instead the one to the left of the big red Download Now button) and Redeem a Promo Code
3. Enter the code and press activate
4. Download the game client and enjoy!
This key contains the following:
⦁ Big Pack
- Io 1
- Credits 750000
- Victor's Medals 5000
- Knowledge of Enemies 25000
⦁ Small Pack
- Maid Costume 1
- Prestige mechanics outfit 1
- Premium Time Days 14
Note:
1. Each code can be redeem just once and each person cannot redeem more than one of these codes.
Featured Video
About:
The Grovewalkers are here! All players can try the new expansion right now! Besides a brand new class, Overgrowth will also let players rediscover the game's world Aelion.
More Giveaways:
Games You May Like