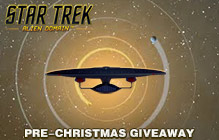 Star Trek Alien Domain Pre-Christmas Pack Giveaway
FREE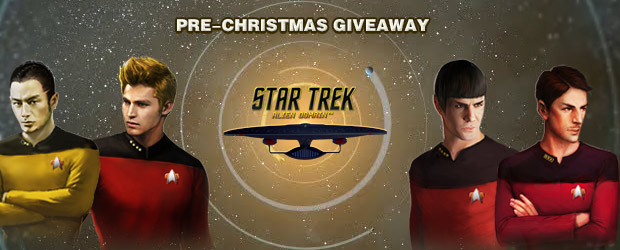 MMOBomb has partnered with GameSamba to celebrate the coming holidays with a special Pre-Christmas pack full items for Star Trek: Alien Domain! To get your code key you just need to click on the button below. Get your key now while supplies last!
Star Trek: Alien Domain is an officially-licensed, free-to-play multiplayer online strategy game playable via your browser.
How to get and use your Key:
Please read and follow the instructions bellow:
1. Log in to your MMOBomb account and copy your key. If you don't have one, register for free HERE.
2. Go HERE and login to your account. If you don't have an account yet, please click on "Sign Up" on the upper right corner to create a new account.
3. Click on GAME START.
4. Click on ITEMS in the lower left section of the game.
5. In the ITEMS windows, click CODE.
6. Enter your Code in the input box and click OK.
7. The gift will be delivered to your ITEMS right away.
8. Make sure you never miss a giveaway, follow our updates via Facebook, Twitter!
9. Enjoy the game! Have Fun!
This code contains the following items:
● Metal 50000
● Crystal 50000
● Credits 100
● Officer Exp-Card(S) 5
● Crate-A 5
● Key-A 5
Note:
1. Each account can only claim 1 code.
2. Codes are to be redeemed in game.
3. Each code can only be used once.
Need Help?
Having problems with your key? Please visit our help center HERE.
More Giveaways:
Games You May Like