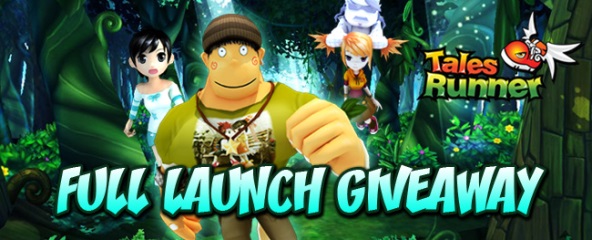 Tales Runner. The Pink Flame prize pack will not only make you look completely stunning and unique on the track but it will also provide you with massive stat boosts to help you race your way to victory. To get your code key you just need to click on the button below. Get your key now while supplies last!
Tales Runner is a bright, cheery racing game where up to 30 players can race against each other across multiple game modes including a challenging Survival mode, with tracks based on fairy tale adventures such as Alice in Wonderland.
Your browser does not support iframes. For having access to this giveaway you need to enable them.
How to get and use your Key:
1. Log in to your MMOBomb account to get your key. If you don't have one, register for free HERE.
2. Register for an OGPlanet account here.
3. Login and create your character.
3. Redeem your code here.
4. Check your in-game 'Inbox' to receive your items!
5. Make sure you never miss a giveaway, follow our updates via Facebook and Twitter!
6. That's it, enjoy!
This Key contains the following items:
* Pink Flame Hair – 60% chance to deflect crush attacks, No Jump duration -10%, Fury Duration +5%, Fury Gain +5%
* Pink Flame Scarf – EXP +10%, TR +5%, Dash Potion Duration +10%, Fury Duration +5%, Fury Gain +5%
* Pink Flame Wings – TR +20%, EXP +20%, Lightning Resist +10%, EXP+3, TR+10, Fury Duration +10%, Fury Gain +10%
* Pink Flame Shoes – Max SPD +2, Accel +1, Voodoo Duration -20%, TR +5%, EXP +5%, Fury Duration +10%, Fury Gain +10%