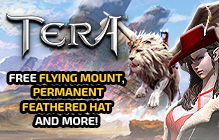 TERA Fang and Feather Celebration Giveaway (NA ONLY)
FREE

MMOBomb.com and En Masse Entertainment are at it again! This time we're giving away a gift pack to our readers to celebrate the Fang and Feather update launch. To get your code key you just need to click on the button below. Get your key now while supplies last!
TERA is a free to play 3D action MMORPG based on a non-targeting system, where players will have direct control over their character's combat. Unlike traditional MMORPGS which use auto-attacks and tab targeting, TERA allows a player to aim their spells and attacks manually. This allows for greater flexibility and much more dynamic combat.
How to get and use your Key:
1. Log in to your MMOBomb forum account to get your key. If you don't have one, register for free HERE.
2. Click on the big yellow button at the top. Copy and paste your key to a safe place as you may not be able to retrieve it once closing your browser.
3. Go to https://account.enmasse.com and create a new En Masse account or log into an existing one.
4. Click "Redeem Code" on the "Account Overview" page, enter your code and click "Submit."
5. Claim your items from your in-game Item Claim.
6. Make sure you never miss a giveaway, follow our updates via Facebook, Twitter!
7. Enjoy the game! Have Fun!
This code contains the following items:
⦁ Red Feathered Hat (Permanent) – A red fabric hat adorned with a golden feather.
⦁ Argo (7-day Character Mount) – Use this manual to learn how to summon Argo, a winged lion mount with a Flight and Movement Speed of 280.
⦁ Tome of Knowledge Sorcerer Weapon Skin (7 Days) - A weapon skin that shows you've got the answers.
⦁ Double Scimitar Archer Weapon Skin (7 Days) – A weapon skin with a piratical theme.
⦁ 50% XP Boost (7 Days) – Can only be used on characters level 64 or below. Increases your hunting XP reward by 50% for 7 real-time days.
Featured Video
Note:
1. Each code can be redeem just once and each person cannot redeem more than one of these codes.
2. Codes are for the NA version of the game ONLY (Published by En Masse Entertainment)
3. Codes expire on January 30th, 2017
Need Help?
Having problems with your key? Please visit our help center HERE.
More Giveaways:
Games You May Like