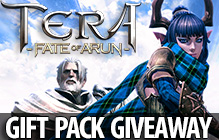 TERA: Fate of Arun Exclusive Gift Pack Giveaway (US Only)
FREE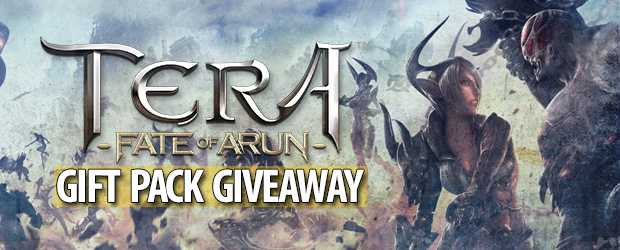 To celebrate the launch of the first major expansion for TERA, MMOBomb have partnered with En Masse Entertainment to bring our members a exclusive gift pack for TERA (North American region only). To get your code key you just need to click on the button below. Get your key now while supplies last!
[popup url="https://www.mmobomb.com/keygen/generate.php?str=WHZQZ2IrK1hMSGxZTk1GaFZoc0tWUT09&get=1 " height="300" width="400" scrollbars="yes" alt="popup"]Get your key[/popup]

TERA: Fate of Arun, the first major expansion to the En Masse MMO Tera, and is now live!
How to get and use your Key:
Please note that these codes are intended for players in the North American region only.
1. Log in to your MMOBomb account to get your key. If you don't have one, register for free HERE.
2. Click on the big yelow button at the top, and copy your key. The key will be temporarily saved for you, so you can go back to this page later and get your key back.
3. Create an En Masse account HERE or login to your existing En Masse account HERE.
4. Select "Account Settings"
5. Click the Enter Code button on the right.
6. Enter your game code and click Submit
7. Make sure you never miss a giveaway, follow our updates via Facebook, Twitter!
8. That's it, enjoy!
Note: Need some help? Check this FAQ: http://support.enmasse.com/tera/how-do-i-redeem-a-code
This code contains the following items:
- 1 Bruiseweave Stole (cosmetic item)
10 of each of these charms
- Greater Power
- Greater Infusing
- Greater Keen
- Greater Enduring
15 of each of these panaceas
- Combat Panacea
- Arunic Panacea
30 of each of these campfires
- Hasty Campfire
- Charming Campfire
Trailer:
More Giveaways:
Games You May Like