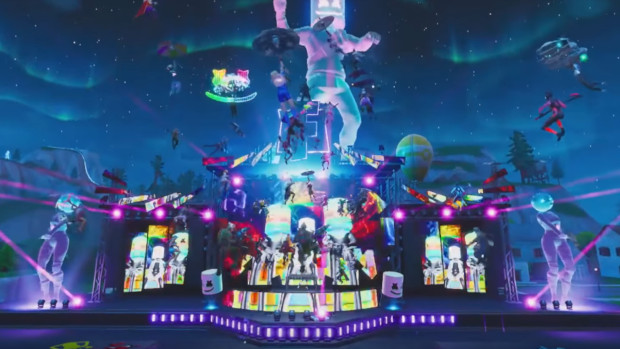 If you don't play Fortnite, you might have missed out on the whole Marshmello concert thing. Just two days ago, Epic Games hosted a concert featuring the DJ in Fortnite's Pleasant Park, transporting all the players to the venue from wherever they were in the game.
The concert featured the kind of stage you'd expect in a real-life concert, and it seems like Epic was doing some motion capture on Marshmellow himself. Players were also given the ability to fly and encouraged to make heavy use of all the dance emotes Fortnite is famous for.
While it looks like it was a pretty good time, the big thing of note was that 10 million players were in the game at once just to be part of the experience. This little tidbit comes via Geoff Keighley who also noted that millions more watched the concert live via various streaming services.
Far From Alone: Sources are telling me there were more than *10 million concurrent players* watching the @marshmellomusic concert in @FortniteGame today – on top of the millions watching online. What a moment for gaming! pic.twitter.com/fkrPNjSC9I

— Geoff Keighley (@geoffkeighley) February 3, 2019
The concert only lasted about 10 minutes. But, let's face it. That's probably the longest you can reasonably ask anyone in the game to go without shooting at someone.
If you missed the concert and would like to see it, you can watch it below.