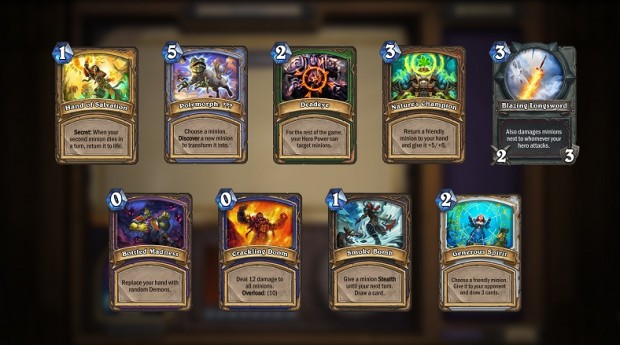 Tired of boring, uninteresting Arena picks in Hearthstone? Blizzard's going to make some changes to the way picks work, along with introducing some new cards that will be exclusive to the mode.
Lead Systems Designer Kris Zierhut posted a video to YouTube explaining how things will change in update 10.4. The three cards for each pick will be based around Blizzard's interpretation of their power level, rather than their rarity. Legendaries will still appear together, but they'll also be of roughly the same power level. The objective of this change is to provide more interesting choices and avoid cases where you get one card that's clearly better than your other two options.
In addition, Arena players will be able to choose from nine new cards — one for each class — that were decided upon at last year's BlizzCon; you can see these above. For more details on the upcoming changes to Arena, you can read the dev blog on the Hearthstone site.