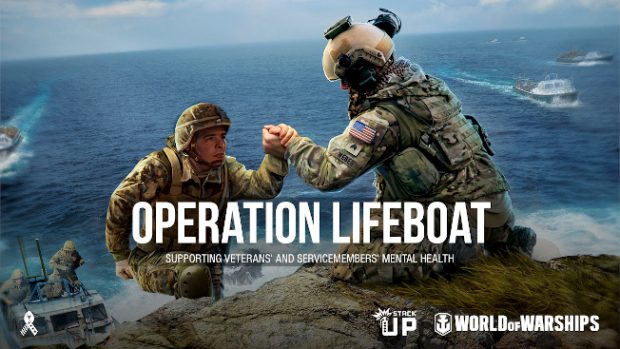 In an effort to support military veterans, World of Warships (and other war things) developer Wargaming has teamed up with the veteran-focused nonprofit organization Stack Up to create Operation Lifeboat. A fundraising effort supporting the organization's Stack Up's Overwatch Program (StOP), Operation Lifeboat introduces a special bundle to World of Warships in hopes of raising $100,000 for the program. One-hundred percent of the proceeds from the bundle will go toward supporting StOP.
Stack Up's Overwatch Program is focused on proving 24/7 support for veterans and military personnel coping with mental health issues. So far, the program has helped nearly 36,000 U.S. and Allied military service members cope with deployment in combat zones and their recovery efforts once they've returned home. To expand these efforts, Wargaming has also announced plans to add a link directly into World of Warships that can direct veterans seeking help to Stack Up and its team of volunteers.
Currently, there are two bundles available for purchase that will support Operation Lifeboat. Both bundles can be viewed via the Wargaming site.