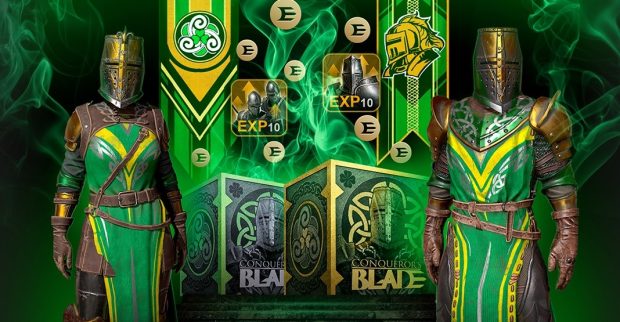 Conqueror's Blade developer Booming Games was one of the first game companies we heard about that was having to deal with the coronavirus (COVID-19) outbreak, by limiting its Chinese employees' access to the office. Now the developer is giving its players reasons to stay at home and play games, offering a month's worth of Premium time for free.
From now until April 4, you can enjoy bonus rewards in Conqueror's Blade for 30 days just by redeeming a code via the website. The complete instructions for doing so can be found here. Being Premium grants you a 30% bonus to XP for your warlord and units, bronze coins, and Honor points, as well as unlocking more rewards for weekly achievements.
While you're at it, you can also celebrate St. Patrick's Day by picking up a free Green Knight Banner until the end of March. You can also purchase more green-themed attire from the cash shop, including a pair of bundles: Shamrock Hero and Emerald Emperor. In addition to cosmetic attire and banners, each bundle includes XP bonus cards and, for the Emerald Emperor bundle, 21 Vault Keys. Learn more about the holiday bundles and their contents on the Conqueror's Blade website.