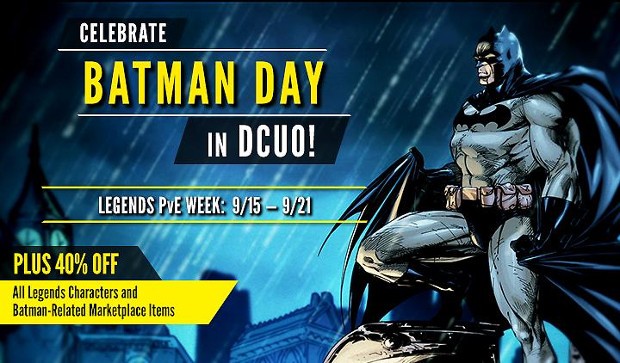 DC's annual celebration of all things Dark Knight — or Batman Day — is upon us. This year the event takes place this Saturday (September 17). Of course, DCUO is honoring the alternate personality of Gotham's own Bruce Wayne as well, but they're taking a whole week out to do it.
As of today — and running through Wednesday, Septmeber 21 — DCUO will be hosting Legends PvE week (as Batman is a true Legend himself). Legends PvE Week is open to all players and will feature 12 events, in all, taking players to places like the South Gotham Courthouse, Area 51, and the Hall of Doom.
Of course, in games these days it's not an event without a sale, so DCUO is also offering Exobyte data for all Legends characters at 40% off. All Batman-related items will be marked down 40% as well.
Finally, There will also be a Trivia Sweepstakes. Full details on this will not be made available until Saturday. Players will need to keep an eye on the DCUO Twitter account and the game's forums to find out more about that.