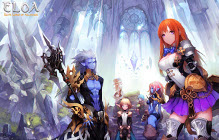 Webzen's new MMO ELOA: Elite Lord of Alliance has already released a pretty significant content patch, adding new player levels, zones, and more. The biggest change in the update is, in fact, the four level level-cap increase — from 36 to 40 — as all the other additions and changes are a direct result of this.
To accompany the cap increase, the developers have introduced new zones, including Crying Land which comes with its own event dungeon. They've also added a new Monster Journal update, quests, achievements and titles. Two new dungeons have been added as well: Guntara's Hideout and Spider Cave.
The level increase has also resulted in level requirement increase for battlefields, Eva's Wisdom, and the Crevice of Chaos — as well as a level cap increase for Transcendence.
Of course, there are other changes not related to the level cap raise, including the ending of PvP Pre-Season. (Elite Grade players should be receiving some rewards.) For full details on other changes implemented during the update, be sure to check out the ELOA site.