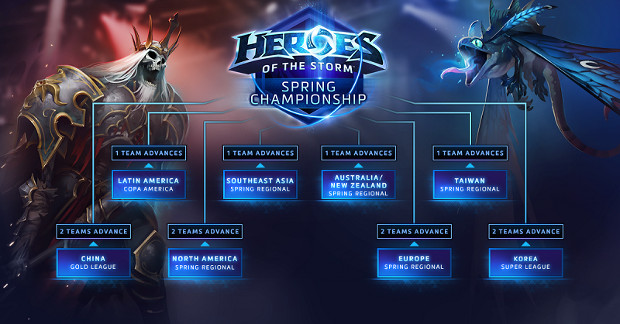 Last year at BlizzCon, Blizzard announced that they would be kicking off the first Heroes of the Storm Global Championship this year. With over $4 million on the line, players from Australia/New Zeland, China, Europe, Korea, Latin America, North America, Southeast Asia, and Taiwan will be competing in a seasonal tournament format.
The first qualifiers are currently getting underway and Blizzard has shared a breakdown of the Spring Global Championship and everything that will lead up to it. Dates and locations for the first set of regional events are as follows:
SPRING GLOBAL CHAMPIONSHIP EVENT
Dates: April 1–3
Location: Seoul, South Korea
Partner: OGN
Prize Pool: $500k USD
Check back soon for more information
Australia/New Zealand – Season 1 Regional
Dates: January 30 – February 28
Location: Preliminaries online; Finals live streamed from Sydney, Australia
Partner: ESL
Prize Pool: $20k USD
For more infomation check out our forum thread.
China – Gold League
Dates: January 15–24
Location: Shanghai, China
Partner: NetEase / NeoTV
Prize Pool: $100k USD*
For more information, visit gold.blizzard.cn (Chinese)
Europe – Spring Regional
Dates: March 5–6 (Finals)
Location: Preliminaries online; Finals in Katowice, Poland
Partner: ESL
Prize Pool: $100k USD
For more information, visit ESL Gaming
Korea – Super League
Dates: January 12–March 20
Location: Preliminaries online; Finals in Seoul, South Korea
Partner: OGN
Prize Pool: $200k USD
For more information, visit PlayXP  (Korean)
Latin America – Copa America
Dates: January 25–March 19
Location: Preliminaries online; Finals in Brazil
Partner: VIU / BRMA
Prize Pool: $18.5k USD
For more information, visit Viu Studio
North America – Spring Regional
Dates: February 27–28 (Finals)
Location: Preliminaries online; Finals in Los Angeles, California
Partner: ESL
Prize Pool: $100k USD
Check back soon for more information
South East Asia – Spring Regional
Dates: January 16–March 6
Location: Preliminaries online and offline; SEA finals online, cast live from Singapore
Partner: AsiaSoft
Prize Pool: $22.5k USD*
For more information, visit HeroesSEA
Taiwan – Spring Regional
Dates: February 18–March 13
Location: Preliminaries online; Finals in Taipei, Taiwan
Partner: 4Gamers
Prize Pool: $60k USD
For more information, visit tw.battle.net  (Chinese)