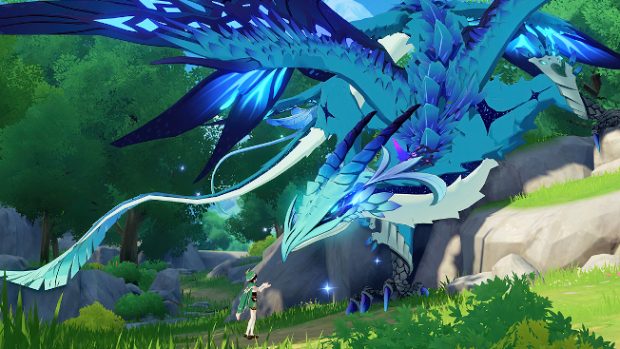 While miHoYo hasn't announced an official date for it yet, Genshin Impact's 1.3 update isn't too far off. We do know it's supposed to arrive in February. (Speculation has it that the update will actually arrive on Febrary 3rd, keeping both with the trend of launching on a Wednesday and a previously established 6 week timetable.)
Even though the date is an educated guess, the fact is that the update will be arriving soon, and miHoYo's devs are already offering players information on what they can expect both leading up to it and when it arrives. The new information is provided in a Dev Discussion post on the miHoYo forums and answers questions about several features players are interested in. These include pre-installation and the ability to use controllers on mobile devices as well as new ways to use materials and adjusting Original Resin use.
For mobile players in general, the good news is that pre-installation will be available to them before the Version 1.3 update. To do this, players will need to grab the resource package from the login menu or go to "Other", then "Pre-Install Resource Package". Downloading the actual update still occurs via the App or Google Play Store when it becomes available. The update will make use of the pre-installed software in the process.
As for the controller issue, it addresses iOS users who would like to make use of a controller while playing the game. When Version 1.3 hits it will include an update that allows users with an operating system of iOS 14 or higher to use a variety of controllers to play. These include the Bluetooth Xbox Wireless, Xbox Elite Wireless Series 2, PlayStation DualShock 4 Wireless, and iOS specialized Bluetooth controllers.
Moving on to materials, two particular requests were made. The first is that players have the ability to hold down a button to add materials when enhancing weapons in order to increase or decrease the amount consumed. (There is a lot of clicking required otherwise.) That's coming. Second, when the new version hits, players will have access to a material conversion function. This is still being worked on at the moment, so no other information is available other than that it's on its way.
And then, of course, there's the never-ending issue of not having enough Original Resin. The devs are doing two things to fix this. First, any new events that don't include Ley Lines or Domains will no longer require resin to obtain rewards. The same goes for the majority of large-scale events. Second, future battle passes will offer more fragile resin rewards. (This is good since a lot of completing the battle pass requires you to use resin.)
The Dev Discussion doesn't go into what kind of new content or events players can expect in Version 1.3, but it does answer a few questions about character-specific gameplay. If you'd like to read up on that, you can find the the post here.