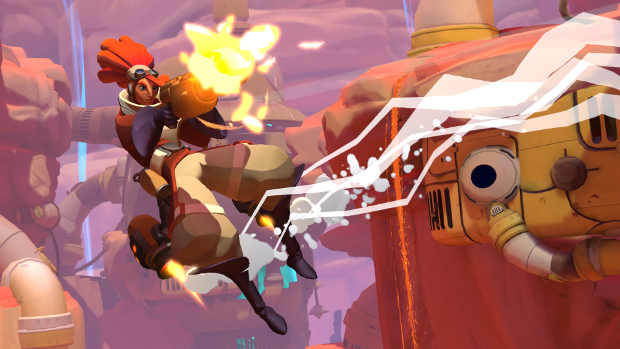 A new Hero is joining the ranks of the free-to-play team shooter, Gigantic. Beckett — a new "tactical shooter" character — comes equipped with machine pistols, grenades, cannon, and a special jetpack. The combination allows her to tear through single heroes with pistols while taking out a group with one of her grenades. And if things get too hot, she can use her jetpack to get out of trouble.
As an added feature, both her cannon and grenades are upgradable — with anti-armor shells and poison gas respectively. You can see a full list of her abilities on her Wiki page on the Gigantic site.
In addition to the introduction of Beckett, the Gigantic team has also announced that Closed Beta testing for both Xbox One and Windows 10 will be running 24/7 starting…. NOW. Oh, and between now and the end of the weekend, testers are allowed to share their play experiences via streams — so you might want to take advantage of that.