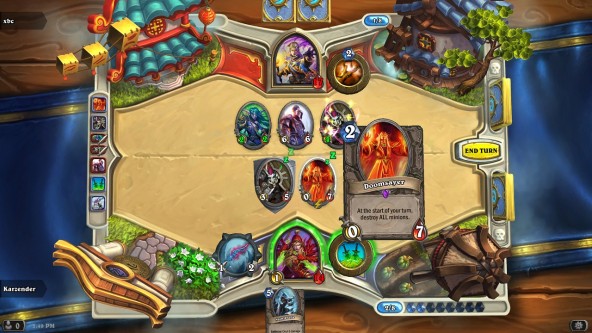 Who would have thought, in the year 2014 we'd be having a discussion regarding the segregation of sexes in an online collectible card tournament? Yet here we are, and here the International eSports Federation stands guilty of only allowing male players to participate in their upcoming multi-national Hearthstone tournament.
News of the restriction came after a Finnish qualifier tournament for the IeSF announced only Finnish male players would be allowed to participate. After PCGamer inquired further it was revealed the decision to separate male and female players was "to avoid possible conflicts e.g. a female player eliminating a male player during RO8) among other things."
Since the IeSF was only allowing male players to participate in the finals, the Finnish tournament officials wouldn't be able to guarantee the winner would be eligible to progress if they were a woman.
The IeSF itself is a South Korean based organization whose mission is to increase the number of member nations, create regulations for international eSports and host an international world championship all to promote eSports as a "true sport". In order to accomplish this goal the IeSF has viewed the segregation of sexes in eSports as a necessity in order to better match current sports guidelines.
The IeSF currently only hosts women only tournaments for two games, Starcraft 2 and Tekken Tag 2. Men on the other hand may participate in Dota 2, Starcraft 2, Hearthstone, and Ultra Street Fighter IV. As for why neither male or female players may play against each other in Starcraft 2 or why female players can't have or be involved in any of the other listed titles remains to be seen.
The IeSF has been quick to respond to the allegations through Twitter and Facebook where the organization has stated they are working to "make sure there are no discrimination whatsoever." An official statement is said to be coming shortly.