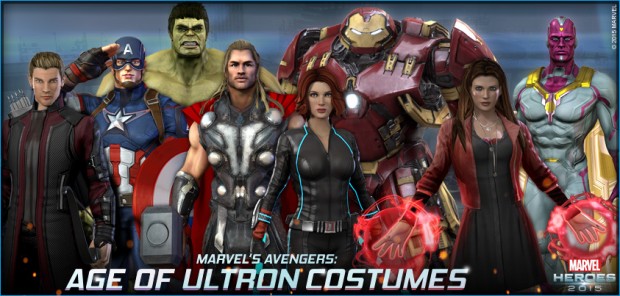 Gazillion's rolling out the red carpet for the Avengers and the new Marvel movie Avengers: Age of Ultron, with a set of new features and goodies starting today and running through the film's launch window.
For starters, you can play as any of the core Avengers — Captain America, Iron Man, Thor, Hulk, Black Widow, and Hawkeye — for free and get bonus XP while playing one. There are new costumes for those six, as well as Vision (who's new to the game) and Scarlet Witch. Wanda herself gets a complete re-design to her powers, while Hawkeye and Black Widow receive some lesser tweaks, and there's a new game mode that pits high-level players against swarms of enemies and even Ultron himself in the ruins of the Avengers Mansion.
Various package deals for players new and old are also in the offing, so now's a great time to jump back into the game if you've been putting it off!