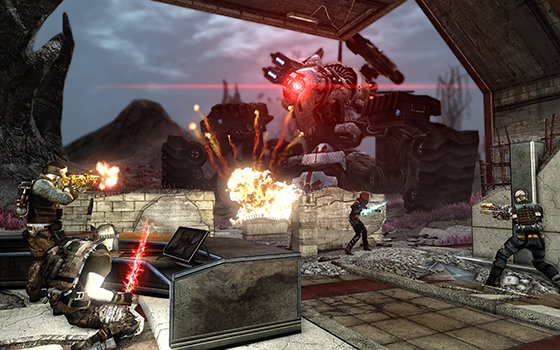 Trion Worlds no longer has a Pay-to-Play MMORPG in its repertoire, or at least they won't come June 4th when their open world MMOFPS Defiance is set to make the transition over to Free-to-Play on PC, with console versions following shortly after in mid-July.
Released back in 2013, Defiance aimed to set itself apart from other MMOs by tying the MMOFPS to a Syfy original series of the same name. Events which take place in game are said to effect the show, and with Season 2 set to begin on June 19th, Free-to-Play players will get a chance to participate in brand new missions that will continue to unfurl the series storyline. Like Rift, Defiance will follow Trion's mantra of "No Tricks, No Traps" which is to imply the studio will allow all players to progress through the game's notable content without the need to pay.
That being said, Trion Worlds does plan on offering those who purchased a copy of Defiance additional character slots, loadouts, ark keycode capacity, inventory slots and a one time allotment of 1000 Arkforge which is said to be "redeemable for resetting weapon mastery, upgrading your weapon's power rating, or even bumping an uncommon weapon to epic rarity".
If that wasn't enough, purchasers will also receive 30 days of "Paradise Patron" status which will grant them the following benefits:
* Boosts to skill, XP, scrip, salvage, and reputation gain rates that stack with boosts available in the store.
* 10% store-wide discount on boosts, costumes, lock boxes
* A daily grab bag of two-hour boosts.
* Arkforge from Daily and Weekly Ark Hunter Bonus Lock Boxes.
A full side-by-side comparison of benefits for veteran players vs new recruits can be found here.
Interestingly, according to Polygon Trion Worlds had planned for Defiance to go Free-to-Play all along. The studio will hold a special Twitch stream this Friday at 5PM ET to answer questions regarding the transition and lay out the teams development plans moving forward.