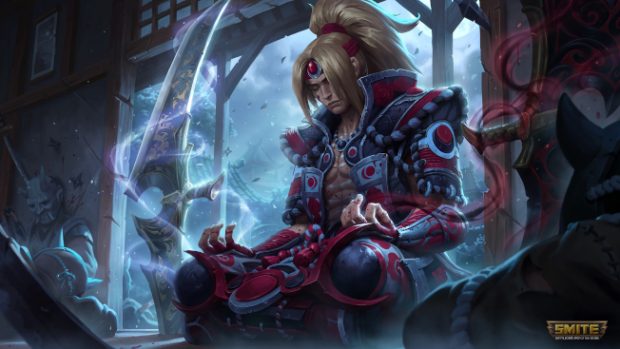 A new god is being prepared to join the Japanese pantheon in Smite. Tsukiyomi, the Japanese god of the moon — and the estranged husband of Amaterasu who he's been chasing across the sky forever — brings his unique abilities to the battleground. He dual-wields bladed weapons named Mangetsu and Shingetsu, both of which are empowered by damaging the enemy, allowing them to increase Tsukuyomi's healing and the damage he deals to foes.
The weapons boast other abilities such as being able to summon a Dark Moon Shuriken that not only damages enemies but sticks to gods — just in case Tsukuyomi wants to retrieve it. They also merge into an even more powerful weapon, as well as pulling down the power of both the stars and the moon.
A full rundown of Tsukuyomi's kit is available on the Smite site along with information on other changes coming in his associated update. You can also find out more about him by watching today's dev stream below.