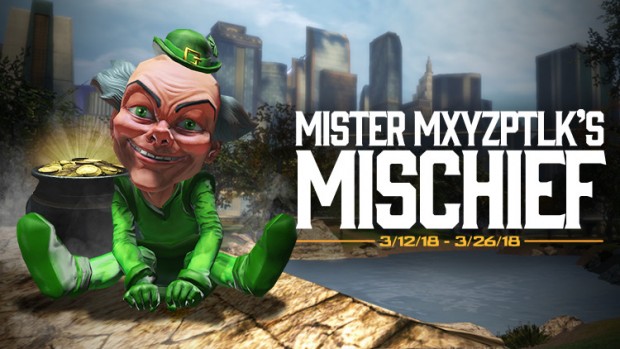 Apparently, "Mxyzptlk" is Irish. Who knew? In any case, DC Universe Online's mischievous extra-dimensional entity is donning his leprechaun duds for St. Patrick's Day, bringing with him new cosmetics players can earn over a two-week period. Just don't say his name backwards or they'll all disappear.
Find the quest "Mxyleprechauns!" in your journal to embark on a hunt that will lead you to a pot o' gold — literally. One of the prizes is a "Shamrock Strike Uplink Device," which will let you rain down gold coins on your foes. There are also the usual cosmetic items and a couple of new feats to strive for.
The St. Patrick's Day event in DC Universe Online runs until March 26. Learn more on the DCUO site.