In addition to the Hearthstone World Championship taking place at this year's BlizzCon, Game Director Eric Dodds took to the stage to reveal the newest adventure that would be not only amazing, but also soon. Not Soon(tm), but actual soon!
The League of Explorers consists has players following the adventures of a quartet of Azerothian explorers, led by Brann Bronzebeard and having a very strong Indiana Jones vibe. The first of four wings will be available next Thursday(!), Nov. 12. As usual, new cards will be earned by beating bosses in each wing, including legendaries for each of the four explorers.
There are also the usual mix of class challenges, heroic modes, new game boards, and a new game mechanic, Discover, which lets players choose from three cards that fit their deck to add to their hands.
And then there's this. No, really, THIS: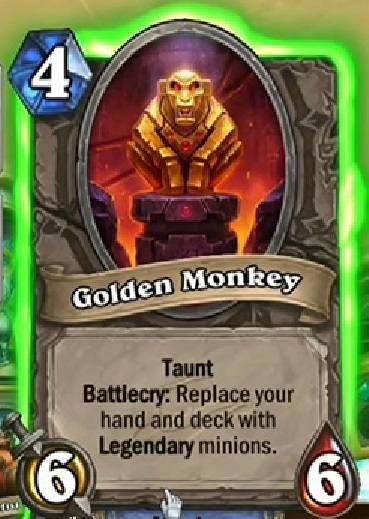 Uh, sure. Considering the convoluted path to acquiring it – you need to play two cards before it to get it into your hand – it's not too crazy, but… yeah.
But are they golden legendaries?