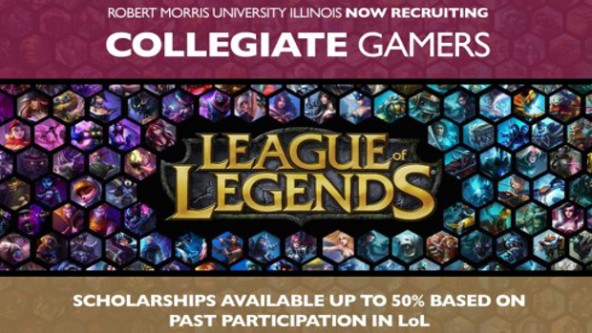 If you're on the lookout for a university to attend and happen to play League of Legends you may want to consider applying for Robert Morris University in Illinois. The University just announced it would begin a new athletic program dedicated to competing in League of Legends Collegiate Starleague. Starting in the fall, RMU will compete against 103 other schools of higher learning, but what makes RMU's addition to the roster unique is the fact that the University is the first to offer significant scholarship backing to qualified students. Suddenly playing League in your dorm is the equivalent of "working out".
According to the official press release issued by RMU,"qualified gamers can earn scholarships of up to 50% tuition and 50% room and board" a figure that amounts to $19,000 per person. In order to qualify students should have experience in the High School Starleague or other similar League tournaments.
As for why RMU decided to support League so heavily, RMU's Associate Athletic Director Kurt Melcher shed some light on the matter by explaining:
Robert Morris University has always been at the forefront of providing opportunities for a diverse student population with different interests and skills. League of Legends is a competitive, challenging game which requires significant amount of teamwork to be successful.
Those who achieve varsity status in the program will go on to compete for a spot in the North American Collegiate Championship where they can win an additional $100,000 in scholarship money, at which point they'd probably just drop out and play League professionally.
Seriously though, if you're good enough to win the Collegiate Championship, chances are you at least have a shot at a professional team and professional teams don't start after college, they begin in college when reaction times are at their peaks. So the question becomes do you have what it takes to give up college and make it in the big leagues or do you stay in college and remain a school athlete?