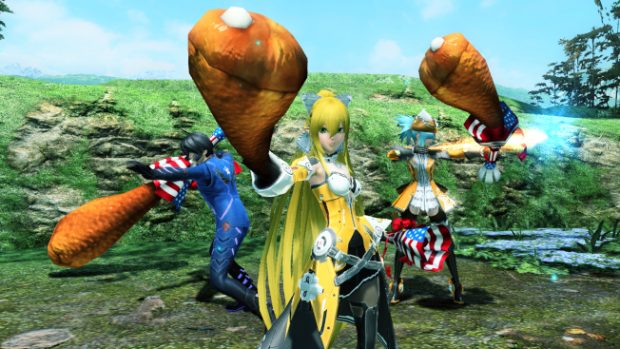 It seems like there's always a lot going on in Phantasy Star Online 2, and now is no exception. In fact, today, Sega not only announced the release of the new "Castrum Demnica: Madness" Urgent Quest, but also the game's Thanksgiving event and a new AC Scratch Ticket collaboration.
Things are getting wild in Cuento as Ys Artia has begun an incursion of Supernaturals via a Castrum Demonica. Not only that, but Felspawn have joined the party as well, meaning the ARKS have some serious work ahead of them in order to stop things from getting worse. And so we have the new Urgent Quest.
On the less serious side of things, players can now earn themselves a "Turkey Leg" weapon skin as part of the game's Thanksgiving celebration. The new skin is usable on all weapon types. In order to acquire the new skin, players need to complete Event Quests — which are needed to earn the Thanksgiving Badge 2020 reward that can be traded in for the skin as well as themed outfits and room decorations. The event kicked off today and runs through December 8 — at which time we'll assume something Christmas-y will go up.
As for the new AC Scratch Ticket, that will be available November 18 through December 15. During this time, players will be able to earn Guilty Gear and BlazBlue goodies.