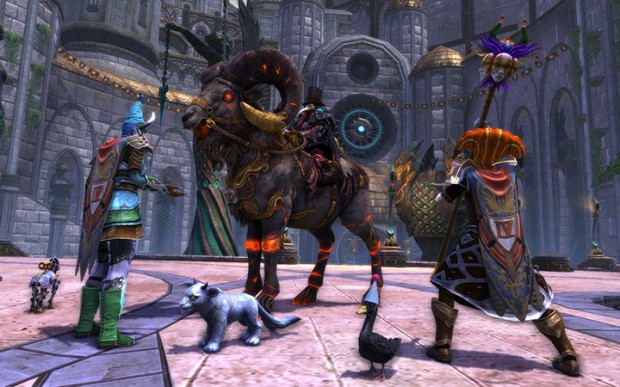 Happy Birthday to Rift! Having launched on March 1st, 2011, Rift turns four years old this week and is celebrating with..you guessed it…an in game event! Running until March 18th, the Carnival of the Ascended events can once again be undertaken by paying a visit to Sanctum or Meridian. Players can look forward to gaining new masks, pets, treasures, and a whole lot more.
What would a new event be in Rift without another currency to farm up though? Carnival tickets will be awarded to players for running daily instant adventures, by trading in various crafting materials from the Plane of Water, and by breaking open Carnival Pinatas while instant adventuring in Goboro Reef. The Twisted Carousel Ram is also available if you get lucky enough with a Limited Edition Trove.
The new 4th Anniversary loot includes:
4 Masks and Sea Colossus Balloon
Windup Pony, Valmera Cub, and Party Duck pets
4th Anniversary Cape and Carnival Weapons!
Check out the full details on the official Rift forums.