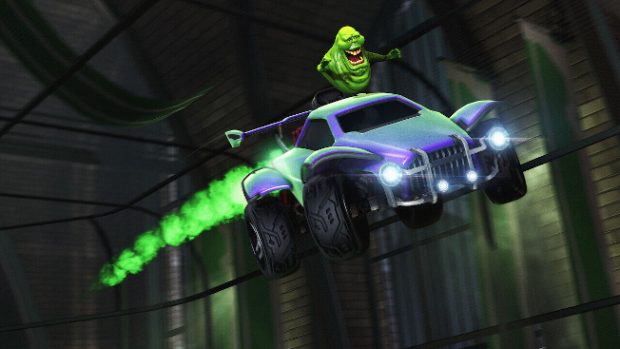 Well, it looks like Mike may actually get that Stay Puft goal explosion he's been wanting since he started playing Rocket League. Today, Psyonix announced tomorrow's kickoff of the Haunted Hallows Halloween event, featuring a whole bunch of Ghostbusters goodies. As with earlier events, like Llama-Rama, many of the event items can be obtained by completing various challenges. These include the Ghostbusters Wheels, a Slimer Topper, and the Mood Slime Boost. More items are also available, although, you'll have to earn Golden Pumpkins and trade them in.
The event also introduces two new limited time modes: Haunted Heatseeker and Spike Rush. Chances are you'll be spending some time in these if you want those Ghostbusters goodies.
As for the Stay Puft goal explosion… that will appear in the item shop at some point. We're just not sure when. But it will have to be sometime between tomorrow (Oct 20) and when the event ends on November 2. Until then, players are encouraged to keep checking the shop, because there will be other things to spend your money on — like a reaper goal explosion or the Ecto-1.