We haven't heard from S2 Games in quite a while, last we saw the devs were still plugging away creating new content for Heroes of Newerth. But S2 has been busy behind the scenes and have emerged with Strife, a new MOBA with an increased focus on expunging toxic behaviour from MOBA communities.
S2 knows a thing or two about toxic communities, so Strife is serving as a fresh slate for the devs. A platform for them to take their past experiences and apply what they've learned. One might immediately wonder what S2 plans to do with Heroes of Newerth. The MOBA has experienced a decline since Dota 2 became available, but S2 says they will continue to support the MOBA alongside Strife.
Strife will be providing tools from the onset which will encourage players to collaborate. Similar to the systems currently used by Dota 2 and League of Legends, Strife will employ a "karma" system for policing bad behavior. After each game, players can choose to make a positive, negative or null action against others.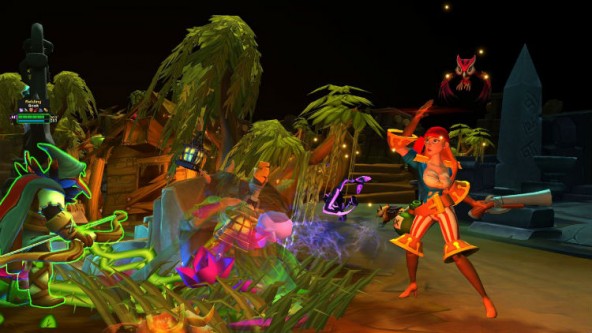 Those with loads of Karma are rated better among the community and receive more rewards. If you happen to be a debbie downer with a low Karma score, you just may receive coal instead, literally. Perhaps receiving a lump of black coal will remind players to police their behaviour and incentivise them to change their Karma score.
Strife is said to use the familiar tri-lane setup from other MOBAs, but will include some unique elements under the hood. Keeping with the whole "there is no I in team" moto, all gold will be shared between team members near where an enemy dies. Oh, and there is also something here about unleashing a giant albino ape named Krytos on unsuspecting teams. Players can even collect evolving pets which grant passive buffs to their character.
You can sign up for the currently unannounced closed beta by visiting the official site here.