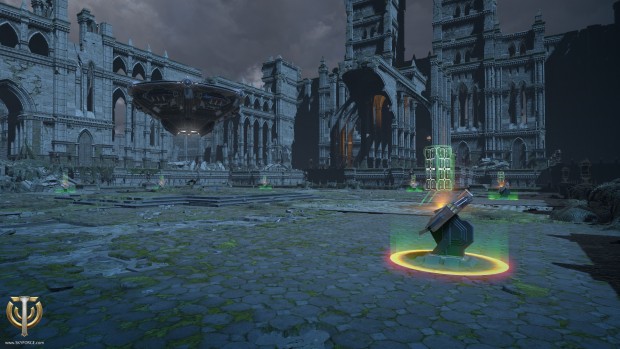 As far as end game content goes, we already know that Skyforge, My.com's upcoming free to play MMORPG, will feature dungeons at launch and raids sometime after launch. Obvioulsy, PvP will be a big part of endgame content for those that like that type of thing (grrr….I'm so bad at PvP), but other than those basic ideas, little is known about what players can expect once they've actually ascended to their Divine Form's godhood.
Luckily, My.com has decided to start the information train off with a peek at 10 player Pantheon (that's Skyforge's word for "guilds") content called "Distortions." The basic idea is for your guild to obtain a special analyzer that can detect the distortions caused by monsters of old trying to rebuild their bases and lairs. Get the analyzer, find a distortion, and you and 9 guildmates of god-like skill and gear can teleport to an arena where you'll do battle with 4 very difficult foes one right after the other.
Here's the "wrinkle." You only have 15 minutes to complete the distortion event once started. You and your group better know exactly what you're doing before you enter the distortion as there won't be time to sit and chat between fights about how best to tackle the next opponent.
Fame, honor, and unique epic weapons are on the line so read up on Distortions and get busy training!