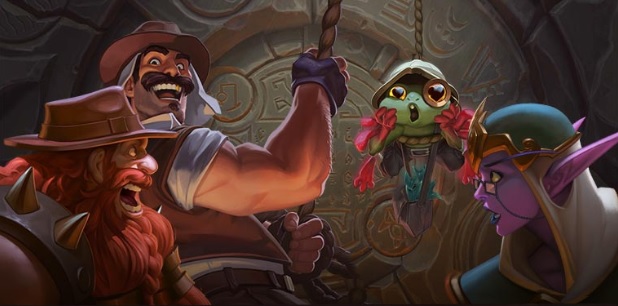 The League of Explorers is up to some … well, exploring, in Tombs of Terror, the new solo adventure for Hearthstone that went live yesterday. Similar to the last expansion's Dalaran Heist, in Tombs of Terror you'll face off against eight bosses with a deck you can customize throughout your run. You'll take on the role of one of the four heroes of the League — Reno Jackson, Sir Finley Mrrgglton, Brann Bronzebeard, and Elise Starseeker — each of whom offers cards and powers from two classes instead of one.
Reno Jackson and the first chapter of the adventure, the Lost City and its Plague of Murlocs special twist, is available for free. Additional heroes and chapters cost 700 gold or $6.99 to unlock (or $14.99 to unlock all at once) and will be released every two weeks. As an added bonus, you'll earn three packs from the latest expansion, Saviors of Uldum, after beating the fifth boss in each adventure, three more for completing the final chapter, and a Golden Classic Pack for completing all four.
Learn more about the Tombs of Terror on the Hearthstone site.