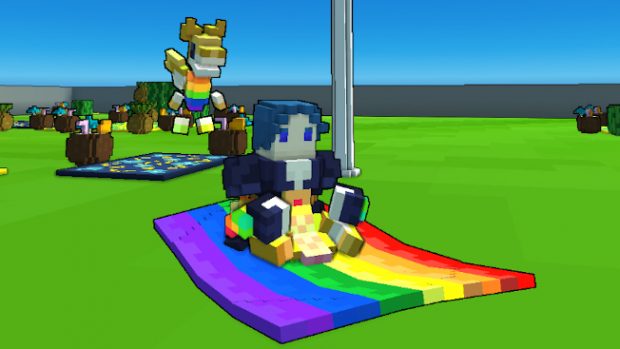 Break out the beach towels and get ready for some sun, Trove's Splendid Summer Event has arrived. Starting today and running until June 23, Trove players can take part in the event, spending some time at the beach and earning big rewards. Although, to get the rewards you'll have to do a bit more than sit on the sand and get a tan. You'll need to complete a series of event adventures. Don't worry, you should still have time to get a bit of relaxing in as well.
To go along with the event, the Trove team has also put together a pack of summer items that is now available in the game's shop. The pack contains the following items:
Flitterflatter the Flutterer – Gliding Summer bug Mount
"A N A N A S" – Rolling pineapple mount
Refreshing Beach Mat – Carpet mount (does not fly)
Floatmingo – Flamingo Floaty Boat (very cute)
Hookline Sinker – Boomeranger costume
Sherly Sherbert – Ice cream ally
Larry the Carry guy – Suit Case ally
Redford the Rainbow Balloon – Hot Air balloon ally
Sinker Swim – Fishy ally
Speaking of sales, there's also a "Jolly June Jamboree" sale in the game's store that runs until June 30. During that time, you can pick up several useful items at a discount.