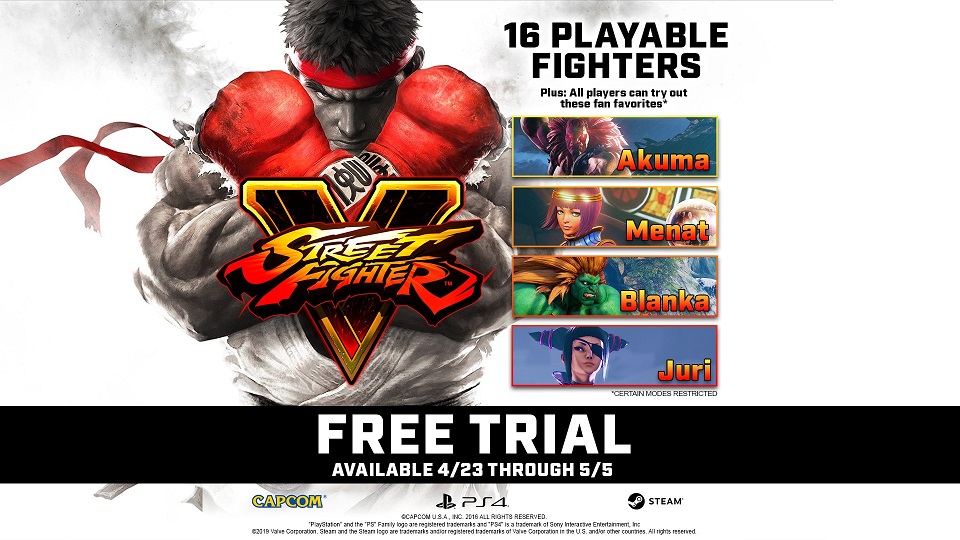 Free weekends are a thing. So are free weeks, and even free months. But a free two weeks? That's a little different, and it sounds like something Fortnite would do. (That was a joke. Get it?)
It's not Fortnite, however, but Street Fighter V that will be free-to-play for all players on PC (via Steam) and PlayStation 4, starting tomorrow, Tuesday, April 23 at 9 a.m. Pacific for North America and 1 p.m. (1 a.m. BST Wednesday) for Europe. Arcade, Versus, Challenge, and Training modes will be unlocked, though you'll need a PS Plus account to play online with the PS4.
All base game content will be available, including 16 fighters and four DLC characters. If you already own the game, those four characters — Akuma, Blanka, Juri, and Menat — will also be available during the two-week period.
As for the timing of the free trial, it's pretty obvious: Mortal Kombat 11 releases worldwide tomorrow. Nearly 30 years ago, these two titles competed for quarters in arcades across the world, and it's kind of neat to see them still duking it out in the year 2019.
For more on the Street Fighter V free trial, read the blog on the Capcom website.