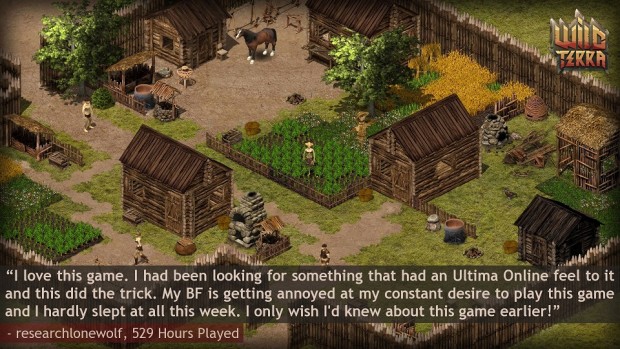 Wild Terra Online is already discounted by 67% in the Steam Lunar New Year Sale, and it's about to get an even further discount — all the way down to zero. Developer Juvty Worlds made the announcement yesterday, and will flip the switch on its survival MMO next Wednesday, Feb. 12, making it fully free-to-play.
Most of the details in the announcement post focus on what players who purchased the game will receive — namely, that they'll receive the Veteran Pack, which is labeled as having a "10,000+ gold value" and contains 30 days of premium time and other goodies. That at least indicates that the game will have some kind of optional subscription, and it already has a cash shop, so the transition to F2P shouldn't be too strenuous.
So give Wild Terra Online a look next week if the notion of surviving in the wild and fending off hungry bears in an isometric world appeals to you. If you're really lucky and leave a positive review, maybe your name will be featured in an official screenshot, too.