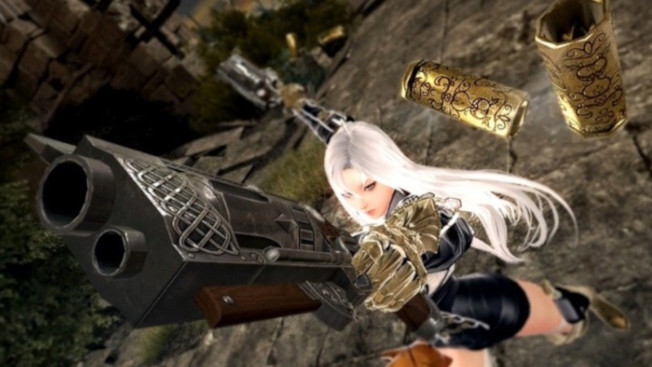 Starting today, Vindictus players can take on the game's challenges as a Void Witch. The long-lost sister of Arisha the Siver Witch, Eira the Void Witch is the master of the revolver.
This lady is not only a gunslinger, but also has the ability to control different dimensions, allowing her to skip in and out, deftly avoiding attacks while landing her own. She has four unique abilities that will make her someone with whom you do not meddle. They combine her ability to handle a firearm with her ability to handle spacetime. These include:
Portal Leap: This ability allows Eira to open portals which she can quickly warp through with the use of mana. During the transition, Eira maintains invincibility and will be able to pass through enemies.

Gravity Rounds: With the use of Gravity Rounds, Eira can create an anti-gravity field, suspending all weakened enemies.

Infinity Shot: Eira can rapidly fire both Mana Revolvers to create a massive barrage of bullets from the portals with Infinity Shot.

Waveform Collapse: Eira binds the enemy and unleashes a concentrated steam of shots while swiftly moving around the area. She can also summon countless spears to attack her foes through her portals.
Since this is Eira's first day out, the Vindictus team is celebrating with a shiny new trailer that offers some information on her story as well as a look at her abilities. You can view it below. More information on Eira is available on the Vindictus site.