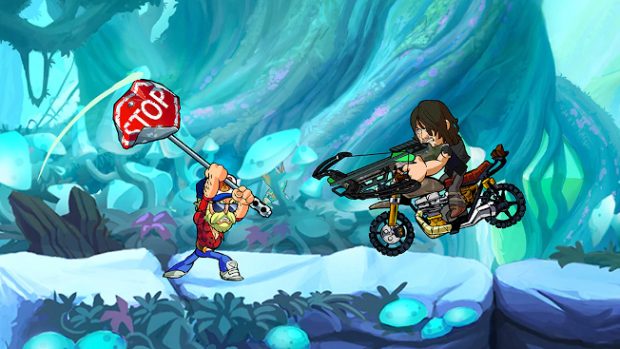 The Walking Dead Season 10 finale finally happened this past Sunday after a prolonged wait. Now, we don't really know if that had anything to do with Brawlhalla announcing a crossover with the zombie-filled franchise today, but it does seem like good timing. The crossover was announced earlier today via the game's Twitter account with a short clip showing Mischone, Rick, and Daryl Brawlhalla style.
The next Crossover is coming October 14th.

Brawlhalla x The Walking Dead.

Prepare to survive: https://t.co/U1vR0Di7Rs pic.twitter.com/vgJEAO8Yis

— Brawlhalla (@Brawlhalla) October 6, 2020
As it turns out, it's specifically these three characters that will be appearing in the game beginning October 14, as Epic Crossovers for Koji, Barraza, and Koji. Also included in the crossover will be a new map, the prison from the 3rd and 4th season of the TV show, and a new game mode that pits players against waves of walkers. There's also a shiny new Podium and KO effect to be had.