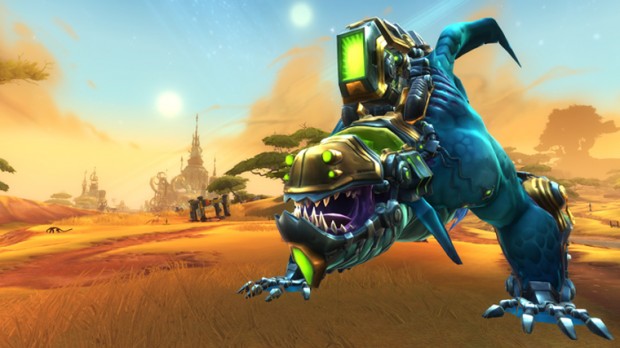 Been taking down World Bosses in Carbine Studios' free-to-play MMORPG WildStar lately? You may want to keep it up as the rewards for doing so are about to get even better. From January 7th through January 10th, players that take on World Bosses or Legendary Champions (either in a fully formed raid party or just by themselves with a bunch of other groups) are guaranteed to get a new Shiny Token and a lockbox key (normally purchased through the game's cash shop) as a drop. Normal creatures throughout the world also have a small chance to drop these tokens. These tokens are able to be turned in to vendors at each Faction's capital city for a Lucky Lopp Lockboxe that has a chance to drop the following:
Veggie Launcher Toy
Garden Green Dye
Lopp Hunter Pet
Lopp Grinder Mount
And More!
To keep up with demand, Legendary Champions will be set to respawn faster and World Bosses can be re-summoned provided you have enough Progenitor Access Particles to respawn them. The amount of Particles actually needed has been decreased for this event.
Head over to the WildStar page for all the particulars and a nifty guide to finding the monsters in question.
If that isn't enough for you, WildStar will hold their Sim Chase starting on January 13th and running until January 22nd. By completing Adventures during the Sim Chase you'll earn items that can be traded (a few times actually) to score you some new decor and housing items. For a breakdown of the dates and prizes check out the official announcement.