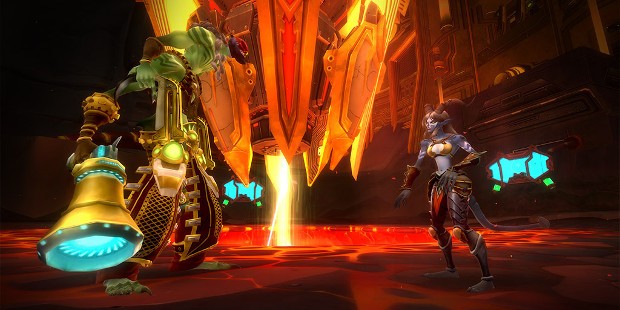 Carbine Studios' free-to-play sci-fi MMO WildStar is due for another update. Titled Power of the Primal Matrix, the update will hit the test realm next week and it looks to be big — adding new high-end content and new systems for end-game players.
To allow for player progression after level 50, Carbine is introducing the Primal Matrix, a system that allows players to increase their power using Primal Essence – an element collected via various in game activities and spent through the Matrix interface.
The system appears to be fairly robust with there being four different kinds of Primal Essence required to unlock each node in the Matrix.
To compliment the new system, the devs are also implementing a new difficulty scaling feature for a portion of classic PvE content. (Apparently this feature is still being worked on as they promise more in the future.) The feature allows players to select a Prime difficulty level for Expeditions or dungeons, scaling item drops in relation to the difficulty of the instance.
And, of course, it wouldn't be a big update without a few new pieces of instanced content. This update will introduce the Coldblood Citadel — a scalable 5-player Prime dungeon, and Evil from the Ether — a new 1-5 player scalable Prime Expedition. Slightly more in-depth writeups are available for both of these on the WildStar site.