One Piece Online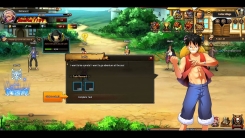 ---
Set in the ever popular world of Shonen Jump's One Piece, One Piece Online is a 2D Tower Defense Action MMORPG that will let players take part in the universe of the beloved anime & manga series. Combining elements of tower defense games with traditional RPGs has created a unique game that many players can enjoy.
Keeping with the theme of its namesake, One Piece Online splits players into one of three classes: Sniper, Swordsman, or Devil Fruit User. Each class has its own unique abilities and style of combat. Players will also be able to recruit familiar characters from the world of One Piece in order to aid them in battle.
One Piece Online also makes use of an auto-play mechanic, meaning that players can let their characters grind even while their away from the game. This can be a useful tool for players with limited time on their hands. Players can also engage in a wide variety of single-player and PvP modes that offer hours of entertainment.
With the only downside being pay to win elements, One Piece Online is a fun game that fans of the series will undoubtedly enjoy.
Disclosure: MMOBomb works closely with publishers and developers to offer a free and rewarding experience. In order to keep everything free to use we may sometimes earn a small commission from some partners. Find more info in our FAQ page.
Additional Information
Developer
JoyGames
Publisher
JoyGames
Release Date
January 22, 2015
Platform
Web Browser
Please note this free-to-play game may or may not offer optional in-game purchases.
Minimum System Requirements
One Piece Online is a browser based game and should run smoothly on practically any PC with a updated web-browser.
If you have old hardware or software, you may still be able to play One Piece Online, but your game experience may suffer. For the best gameplay experience, we recommend the latest versions of Chrome, Firefox, or Microsoft Edge.
All material on this page is copyrighted by ©JoyGames and their respective licensors. All other trademarks are the property of their respective owners.
See All
Games Like One Piece Online