Full Final Fantasy XIV Live Letter 77 Recap: Release Date Drops For Patch 6.4
As expected, we have two weeks to prepare.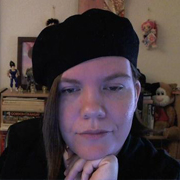 By
QuintLyn Bowers
, News Editor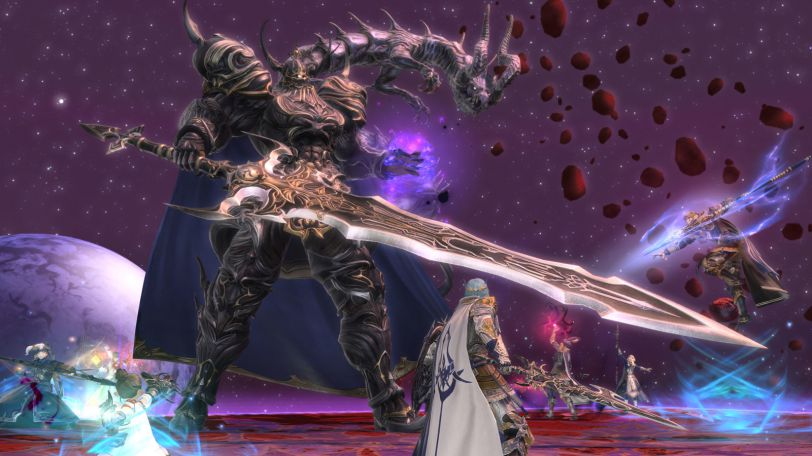 Here we are...more or less at the dead center of May, which means that "late May" is upon us – and the second half of the Final Fantasy Letter from the Producer Live for patch 6.4 has taken place. As always, this stream took place early in the morning and was in Japanese only, with English text on the images. And, as always, we relied on the unofficial Final Fantasy XIV Discord channel for the translations for this post.
Today's Live Letter kicked off with a new trailer for the MMORPG's patch, and there's a lot happening there. We also got a launch date (which is probably why most of you are here). As expected it's May 23, so if, like me, you still have some things to get done, get on it. (Yoshi-P has figured out that we've figured out that there's a pattern to these things.)
The first part of this Live Letter is more or less a recap of what we saw in the last one – the new MSQ content, Tataru's Grand Endeavor, and The Hildibrand Adventures continue. Of course, the last one actually arrives in patch 6.45 along with the next step in both the Manderville relic weapons and the Splendorous tools.
If you haven't completed the Sorrow of Werlyt storyline yet, you'll probably want to get that done before the patch hits. Also, note that the methods of upgrading the weapons won't change much. At worst, there will likely just be a small shift in currency as we already know the Tomestones are changing.
Of course, a new MSQ means a new dungeon and a new trial. We didn't get much new information on the dungeon, after all, that's more or less pure story content. Why spoil it? We did get a peek at the trial where we take on Golbez, however. Get ready to spend some time on a cube in space. Yoshi-P did solo the normal fight a smidge – just enough to give players a look at the arena and a small bit of the mechanics. Viewers immediately began to wonder if the cube would flip around or open up and swallow them. Yoshi-P laughed at that. But do we really trust him?
Watch your step...! pic.twitter.com/XI53CiLpDw

— FINAL FANTASY XIV (@FF_XIV_EN) May 12, 2023
Players also got a look at the first boss in the new raids, "Cocytus". The fights may be part of the Pandaemonium storyline, but this no longer looks like Pandaemonium. It looks like we're fighting on a giant crystal. It also looks like the field for this fight might be a bit tighter than others. As for the rest of the fight, Yoshi-P says the fourth floor will be fresh, but "difficult even in normal mode".
This new raid will also come with adjustments to the treasure coffers for Savage content. These aren't retroactive, so nothing will change in the previous Pandaemonium raids.
First, coffers won't reward duplicate armor pieces for the same slot. Also, body gear can be earned from the Eleventh Circle (so the third fight). The dev team is also dropping the number of coffers that appear at the end of a Savage fight to one. This won't reduce the actual amount of rewards. It really just means there are fewer chests to open. Same rules regarding having players who have completed a duty in the party apply. A party with one to four players who have completed the duty that week in it will have the rewards reduced. Five or more players who have completed the duty for the week will negate the rewards altogether.
Speaking of savages, Yoshi-P also noted that he wants players to be able to tackle a lot of content and play other games as well and not just live in Final Fantasy XIV raiding. When asked if this was really because he wants people to play FFXVI, he said they intend to keep it that way going forward. The more likely cause is that he actually does want people to continue playing for another ten years and is worried about burnout before that happens.
With every patch comes changes to PvP. Of course, we know that PvP Series Four and Season Seven of Crystalline Conflict will arrive with the update. Changes are also being made to the Crystalline Conflict ranking system. Players who place in the top 100 or Diamond tier and above will get additional rewards, including an item that applies an effect to the hellhound weapons. That effect can be seen in the stream.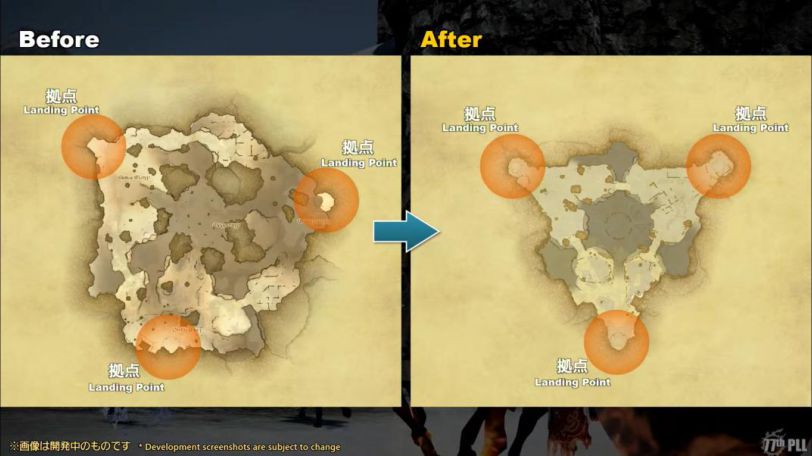 On the Frontline front, a new UI feature is being added that should make it easier to track the time and scores in a match. If players don't like it, the old version will still be there, they'll just need to make the change. Adjustments have been made to the limit gauge based on jobs. Frontline will now award Series EXP, and The Fields of Glory map has been changed. The map itself is simplified while Allagan tomeliths have been removed. In exchange, large and small icebound tomeliths willl now respawn. Finally, for now, Borderland Ruins will be unavailable.
On the more casual front, get ready to spend time in Island Sanctuary again. The update will add new gathering areas, new construction plots, new craftable items, crops, animals, structures, and more. And yes, plenty of rewards. And… the island takes its first step to being something like housing with support for outdoor furnishings. When the update hits, players will be able to unlock 90 slots as they progress. Once again, special items like striking dummies and gardens are not included in the list of items that can be used.
What you can do, however, is apparently glam your island items – meaning that if you have one item and you really like it, you can glam other items to look like it and place them wherever you like. At least if we're understand that correctly. Further translations make it seem like everything you're placing on the island is technically glams. Speaking of glams, it looks like we'll be getting new outfits in our island rewards.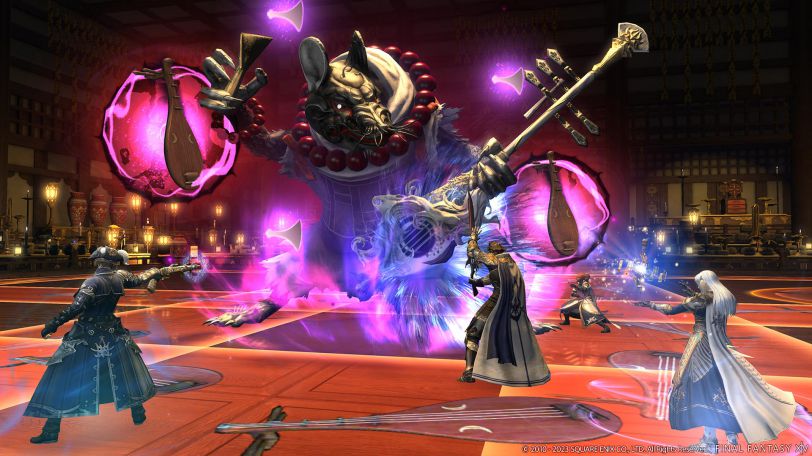 Jumping back to somewhat less casual content, Yoshi-P showed off the next Variant/Criterion dungeon: Mount Rokkon. This dungeon takes us East and it looks like we'll be spending time with Hancock. Like that guy will turn down a chance at a money making opportunity.
As with the last Variant dungeon, players will be given choices and the choices determine the route they take. You can watch Yoshi-P play through a bit of the variant. As for rewards, there's new glam options there as well. If there's another mount (we assume there is) they didn't show it.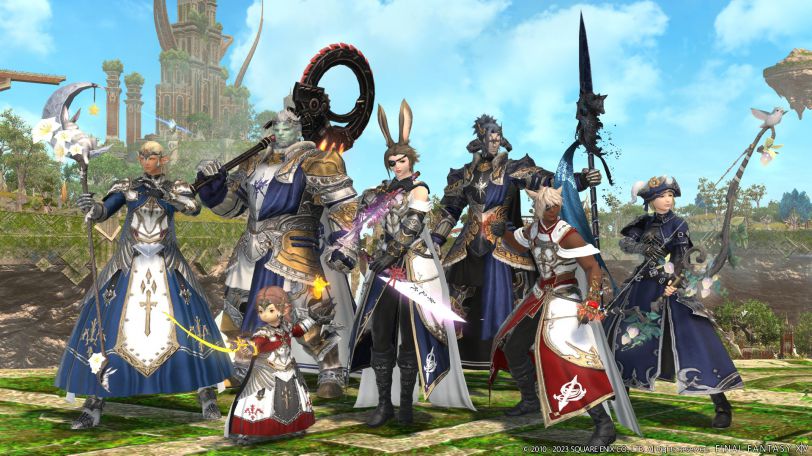 As for the rest of the content, Yoshi-P did do the traditional holding up of printed images of gear. These include new weapons from the design contest, reward gear, raid gear, and crafted gear. He also showed off new mounts. There's another flying bed. This one has plushies on it. There's also an axolotl, a paper lamp demon, a mandragora queen, and another bunny bot.
On the minion front, there's a cute little monkey, a very dapper otter, and a cute dog. Yoshi-P did note that there's more, but these are the ones he's willing to show us.
The stream ended with more news about the upcoming Fan Fest events. Most of it is the same information we've had for a while, but they did note a new special battle that players who attend Fan Fest will be able to try out first – The Gilded Araya.
One other important note, 6.4 maintenance will apparently not take 24 hours, although they didn't specify how long it will be instead. They will be doing a live reading of patch notes during it, though.
---
About the Author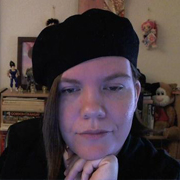 QuintLyn Bowers
,
News Editor
QuintLyn is a long-time lover of all things video game related will happily talk about them to anyone that will listen. She began writing about games for various hobby sites a little over ten years ago and has taken on various roles in the games community.
---
Read Next
You May Enjoy