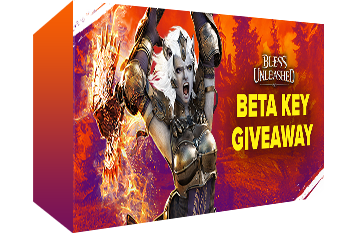 Bless Unleashed (PS4) Beta Key Giveaway
FREE
MMOBomb, Bandai Namco, and Neowiz have partnered up to get our users a free beta key for Bless Unleashed on the PlayStation 4. The Beta starts on August 20th at 10am PDT and runs until August 24th at 10am PDT!
To unlock your key instantly you just need to complete all the steps on the top. Grab your key NOW while supplies last!
Please note that only players from the SCEA region will be able to participate including United States, Canada, Mexico, Brazil, Chile, Argentina, Peru, Colombia, Panama, Costa Rica, Ecuador, Guatemala, El Salvador, Paraguay, Honduras, Bolivia, Uruguay, and Nicaragua.
How to use your Key:
1. Create an account on your Playstation system or at store.playstation.com (or sign in to your existing account.)
2. Select the Playstation Store icon on the PS4 system's Home Screen
3. In Playstation Store select "Redeem Codes" at the bottom of the menu.
4. Enter code and select "Continue"
5. Select "Download" to download content.
6. Select "Continue" to complete code redemption on the PS4 system.
Note:
1. Each key can be redeemed just once and each person cannot redeem more than one of these keys.
Featured Video
About:
Bless Unleashed takes place in the untamed world of Lumios and presents a rich backstory created with MMO players in mind. The game features deep combo-driven mechanics, player customization, and cooperative (PvE) and competitive (PvP) multiplayer.
More Giveaways:
Games You May Like