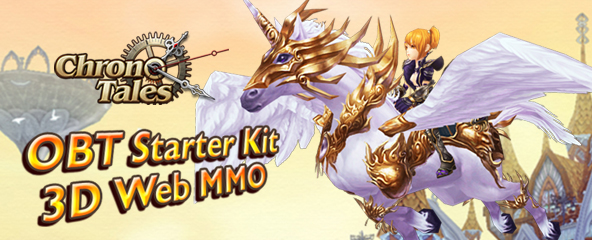 Chrono Tales Open Beta Starter Kit Giveaway
FREE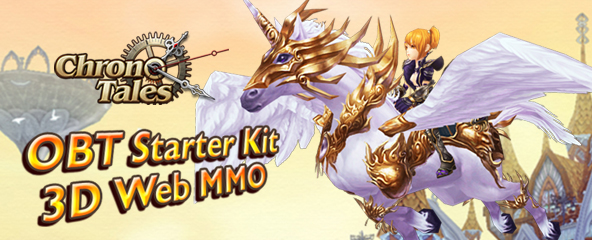 MMOBomb.com and Ray Media have teamed up to give our users free in-game items for Chrono Tales Open Beta (January 29th EST (GMT-5). This Starter Kit will help to make your journey of adventure as easy as possible! To get your code key you just need to click on the button below.
Chrono Tales is a new free to play 3D browser-based MMORPG with anime-styled graphics and real-time combat.
How to get and use your Key:
1. Log in to your MMOBomb account to get your key. If you don't have one, register for free HERE.
2. Copy and paste your key to a safe place as you may not be able to retrieve it once closing your browser.
3. head to the Chrono Tales registration page to sign up, or sign in via Chrono Tales official website, and then click on the "Play Now" button to log in Chrono Tales.
4. When you enter Server 1, find Gift Pack button on the right of the game interface, and then choose "Privilege Code Gift Pack" and "Starter Kit Pack", input the code you obtain.
5. Click "Claim Gift Pack" button, there will be Tip pops up saying that you claim successfully.
6. Check your in game Bag, you will find them
7. Make sure you never miss a giveaway, follow our updates via Facebook and Twitter!
8. Have Fun!
Note:
Chrono Tales Open Beta kicks off from 21:00 of January 29th EST (GMT-5) as well as server 1, named "Chroland".
The starter kit includes:
- Bijou*2
- Bag Expander*1
- Double EXP Card*2
- Medium HP Potion*50
- Medium MP Potion*50
Chrono Tales First Impressions Video:
More Giveaways:
Games You May Like