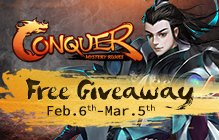 Conquer Online Gift Pack Key Giveaway
FREE
Conquer Online Runes Expansion will bring tremendous change to CO world! To celebrate the release of the new expansion, Conquer Online team join hands with MMOBomb to provide gift packs keys for new players!
Players will get a set of level 15 super +3 equipment (B) to start the new journey, there will also be gifts including EXP Balls, Dragon Balls and + stones to support a new player.
To unlock your gift key you just need to complete all the steps on the top. Get your key now while supplies last!
How to use your Key:
1. Sign up for FREE on their Event Page
2. Download the game and login to create a new character. Click START TO PLAY CO on the event page to download client.
3. Come back to the Event Page, Submit your character info and your gift code to claim your gift packs!
4. Login to the game and claim your prizes from your in-game mailbox by clicking on the mailbox button on the top right corner of the game screen.
This key contains the following:
⦁ New Reunion Box:
EXPBall x 10; EXPPotion x 10; PrayingStone(M) x 1; +3Stone x 7; +3SteedPack x 1; DragonBall x 5; 1000 CPs(B); 30 Day ImperialRobe(B); New Rebirth Box.
⦁ Novice Equipment Pack:
Open to get a set of level 15 Super +3 equipment (B) of your class.
Note:
1. Each code can be redeem just once and each person cannot redeem more than one of these codes.
2. Event Duration: February 6th to March 5th (PST)
About:
Conquer Online is a free PVP MMORPG which features Free to Play, Skill to Win.
More Giveaways:
Games You May Like