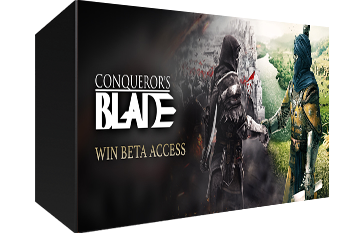 Conqueror's Blade Closed Beta Key Giveaway (NA Only)
FREE
MMOBomb and My.com have teamed up to score YOU Closed Beta access to Conqueror's Blade (NA Only).
Please note the closed beta period is from Feb 7 to Feb 15.
To unlock your key instantly you just need to complete all the steps on the top. Get your key now while supplies last!
How to use your Key:
1) Head to the My.com Website
2) Log into your My.com account
4) Click on your profile link located in the middle of the screen
5) Select " Redeem Promo Code"
6) Enter Promo code and select "Activate The Code"
7) Download game and join the beta (Feb 7 - Feb 15).
This key contains the following:
⦁ Conqueror's Blade Beta access (Feb 7 - Feb 15)
Note:
1. Each code can be redeem just once and each person cannot redeem more than one of these codes.
2. These are NA region specific codes
Featured Video:
About:
Conqueror's Blade is an immersive MMO that mixes epic medieval action and deep tactical gameplay by placing players in the armored boots of a warlord representing kingdoms of the feudal age. Experience a life of military leadership both on and off the battlefield, with strategic and diplomatic choices to make that will determine the ultimate ruler over the battlefields. Warlords choose a combat class that is inspired by Eastern and Western cultures, fight brutal skirmishes and deploy devastating siege weaponry to take down castle walls. Players form alliances, craft impressive armor and field iconic troops - build massive armies and conquer a resource rich world for the glory of their house.
More Giveaways:
Games You May Like