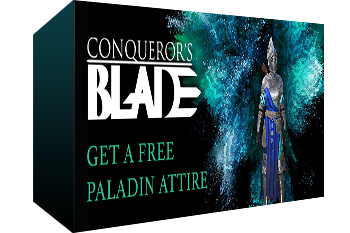 Conqueror's Blade: Paladin Attire Key Giveaway
FREE
MMOBomb and My.Games have partnered up to get our users a free gift Key for Conqueror's Blade. Each key unlocks a Paladin Attire, the ideal attire for any warlord expanding their empire!
To unlock your key instantly you just need to complete all the steps on the top. Get your key now while supplies last!
How to use your Key:
1) Head to the My.Games Website
2) Log into your My.Games account
3) Enter code in "Promotional Code" section and select "View Code Content"
This key contains the following:
⦁ Paladin Attire
Donning the elegant Paladin armor provides the ideal attire for any warlord taking up the noble cause of expanding their empire. From raiding fortresses to broadening their territory, this skin ensures they look their most heroic while leading the charge.
Note:
1. Each key can be redeem just once and each person cannot redeem more than one of these codes.
About:
Conqueror's Blade is an MMO game set in a huge open medieval world where you can build your own army using different medieval and feudal units, fight for castles and land, engage in massive online siege battles, and achieve victory through cunning tactics and combat skills.
More Giveaways:
Games You May Like