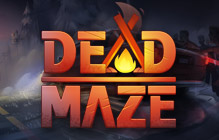 Dead Maze Weapon Key Giveaway
FREE
MMOBomb and Atelier 801 are teaming to get our readers a free Weapon key for Dead Maze. This key includes the exceptional Electric Nightshift weapon.
This Electric Nightshift weapon has an "exceptional" durability level, which will reduce with use.
To unlock your weapon key you just need to complete all the steps on the top. Get your key now while supplies last!
How to use your Key:
1. Launch Dead Maze on Steam and play it for 1 minute to unlock your key.
2. When in-game, type "/code" into the chat window, located on the bottom left corner of the screen.
3. In the pop-up window, enter your key.
4. Head to your personal camp. You'll find your Electric Nightshift outside your cabin's front door.
This key contains the following:
⦁ Electric Nightshift
Like all 500+ weapons that can be found or crafted in Dead Maze, this Electric Nightshift has an "exceptional" durability level, which will reduce with use. Exceptional weapons like this one, boast a higher durability level and will last longer than most weapons in Dead Maze.
Note:
1. Each key can be redeem just once and each person cannot redeem more than one of these keys.
2. Because we have a very limited amount of keys, a valid Steam account is required.
3. Your Steam profile must be public for verification.
About:
The undead won't stand a chance with this shocking Electric Nightshift weapon for Dead Maze, a 2D MMO game set in a world ravaged by the zombie apocalypse. Explore the world, scavenge and craft as many items as possible, to survive the hostile environment and upgrade your gear and camp as you go.
More Giveaways:
Games You May Like