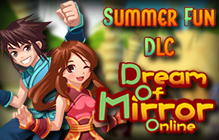 DOMO Steam Summer DLC Key Giveaway
FREE
To celebrate the Summer season, MMOBomb and SubaGames are teaming to get our readers a free Steam DLC key for Dream of Mirror Online (DOMO).
Each key contains surfboards, super soakers and other fun summer themed items. To unlock your gift key instantly you just need to complete all the steps on the top.
Grab your key now and get into the action!
How to use your Key:
1. Complete the steps below and unlock your Steam DLC key.
2. In the Steam app, from the "Games" menu pick "Activate a Product on Steam..."
3. Follow the steps and enter your key when prompted. The DLC content will be installed to your Steam Profile
4. Once the DLC has been released, log into DOMO and the DLC pack will be sent upon logging in
5. The DLC is sent to the first character on your account. The DLC packages won't open unless if there is space in your character's inventory.
This key contains the following:
Female Costumes
Hawaiian Swimsuit(F) - 14 days
Seaside Swimsuit(F) - 14 days
Male Costumes
Hawaiian Swimsuit(M) - 14 days
Seaside Swimsuit(M) - 14 days

Unisex Items
Ice Cream - 7 days
Sunscreen - 7 days
Supersoaker - 7 days
Snorkel - 14 days
Sharkbite Surfboard - 7 days
Radical Surfboard - 7 days
Retro Surfboard - 7 days
Magma Surfboard - 7 days
Hawaiian Surfboard - 7 days
Jungle Surfboard - 7 days
Beach Ball - 7 days
Beach Umbrella - 7 days
Note:
1. Each code can be redeem just once and each person cannot redeem more than one of these codes.
2. Please note these are not Steam keys so follow the key instructions.
About:
Dream of Mirror Online is a beautiful anime themed social MMORPG based off of Chinese mythology! Come home to a world like no other as players have hundreds of things to do in-game! DOMO has plenty of features that created a dedicated fan base and made it one of the most memorable MMORPG experiences ever!
More Giveaways:
Games You May Like